Make Professional Development a Priority in Your Career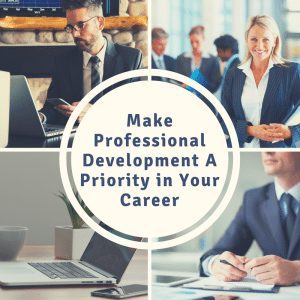 A lot of people take a passive approach with their career; complacent to go to work every day and perform, but nothing more. These same people may or may not enjoy their jobs but they rarely chase down opportunities for challenge and almost never pursue professional development.
Does the above describe you?
Have you considered how a lack of professional development (PD) will impact a potential job search: a time when you need to position yourself as an 'expert' in your field or industry?
You may feel you have a lot to offer employers – and likely so – but the last time you formally updated your skills or completed further education was….never?
It is a competitive employment industry out there. Job seekers need to leverage every advantage they can to stand out and win attention over competitors. People with passive careers will have less noteworthy items to put in their resumes and fewer impacts to support their skills during employment transitions. In addition, how can someone confidently call themselves knowledgeable, skilled, or a 'leading expert' when they are doing nothing beyond the status quo?
You might argue the value of professional development if you feel that you already have the skills to do the job. But do you really? How do you know which skills will set you apart if you aren't researching and pursuing opportunities to advance yourself? This could be the difference between you and your future job competitors.
Consider this possibility: you and someone else both apply for the same job.
Each of you has worked in similar roles with similar impacts.
Yet your competitor was fierce in their work pursuits, taking on extra projects, assisting with tough assignments, and expanding their knowledge in regular workshops, seminars, courses, or conferences. This competitor values further education and recognizes the importance of keeping their finger on the pulse of the industry – they want to know the latest and most modern strategies to support their skills, and their work. But you did not.
Who do you think has an advantage?
In the case of duelling competitors, professional development gives one candidate a clear value-add for their resume….and during the interview process, this same candidate may have stronger stories of success or innovative solutions to share that better match the employer's needs.
Professional development proves to employers that you are working on yourself.
In addition, professional development keeps your skills sharp, helps you expand your network, enables you to pivot with greater ease, and gives you more opportunity to shine. If you haven't pursued opportunities to expand yourself, consider doing so this year. Boost your skills and increase your chances of positioning yourself as an expert in your industry – to win the job you deserve and remain a competitive candidate in the future!
---