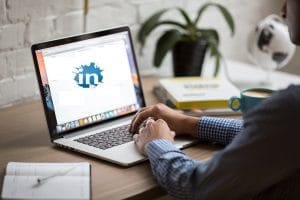 LinkedIn is constantly evolving.
As the site implements changes – job seekers need to keep up.  Why?  Well to start, new features can be leveraged to improve a job search, enhance a career plan, or amplify networking.
On the flip side, changes can impact personal intellectual property and privacy.
Read on to learn more about 3 new features that you need to know about.
1. "Ask for a Referral" Feature
This feature allows you to identify connections that work at a company of interest.  Recognizing that  referrals are a job seeker's silver bullet, this feature can be leveraged to boost job search success.
How does it work?  It's simple.  After you search for, and locate, a job posting of interest on LinkedIn the site automatically shares the number of connections that can potentially assist- related to the job. (Screen shots below are from the desktop version) :

If you click on "Ask for a referral" the names of your connections appear, along with an option to message them directly: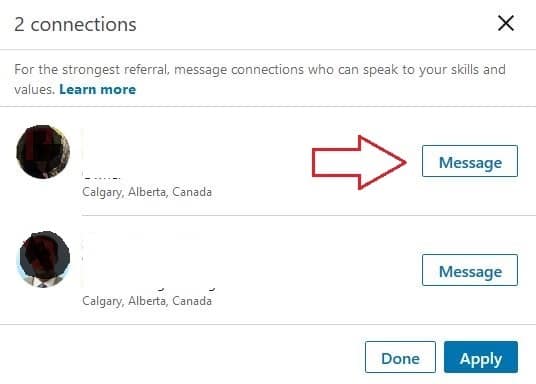 To make things even easier for you in this networking situation, when you click the message box to contact the connection-  a customized note is automatically created for you and a link to the job posting is provided to the contact!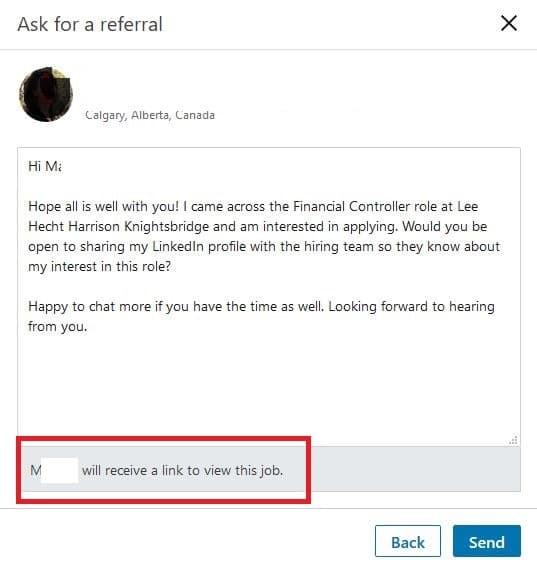 My only warning would be to use this function strategically and carefully, not overstepping your requests or 'working the system' to connect with random people and abuse this function.  Build relationships before requesting help.
Learn more about this feature here: https://techcrunch.com/2018/03/19/linkedin-now-lets-job-seekers-ask-for-referrals-with-a-click-of-a-button/
2. LinkedIn Privacy Setting You Should Turn On
Normally, when you set up LinkedIn privacy settings, you select the audience you want to be able to see your LinkedIn profile. But there is one new setting that you will want to select to ensure that LinkedIn doesn't share your content.
Shortly after Microsoft purchased LinkedIn in 2016 a new Microsoft Word feature called "Resume Assistant," was announced.
When this feature is enabled, it shows what other people in similar roles say about themselves in their LinkedIn profiles, allowing users of the word processing software to incorporate that content directly into the resume they are creating.
While it has always been possible to view profiles of individuals in similar roles for inspiration when constructing your resume, LinkedIn Headline, and profile content, this new feature allows users to directly copy content from other peoples' LinkedIn profiles – including yours!
Fortunately, with the introduction of this new feature, LinkedIn has also recently added a new privacy setting to allow you to omit your LinkedIn profile from showing up in Microsoft Word's Resume Assistant.
Disabling the sharing function makes it harder for others to "plagiarize" your LinkedIn content — whether you wrote it yourself, or had assistance from a professional resume writer.
Here's how to turn on the LinkedIn privacy setting to disable Resume Assistant. When logged into your desktop LinkedIn account:
Click "Me." and then select Settings & Privacy from the drop down menu: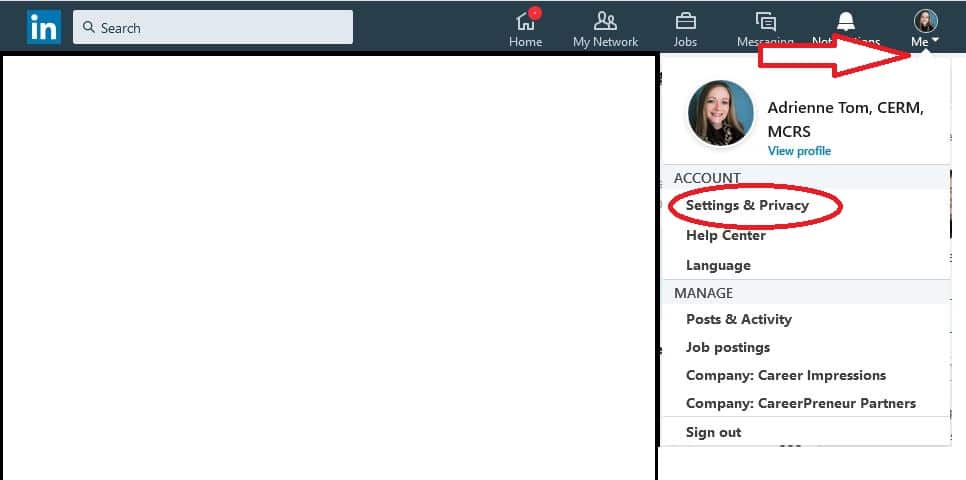 2. Click "Privacy."
3. Scroll down to the "How others see your LinkedIn activity" section.

4. Click on "Microsoft Word."

The default setting is "Yes" — "Allow Microsoft Word to display work experience descriptions from your profile to users of Resume Assistant." Changing the setting to "No" keeps LinkedIn from sharing your descriptions with Microsoft Word users.
5. Slide from the default "Yes" so it shows "No."

You can also change this setting in the LinkedIn mobile app. In the app, go to the "Settings" gear in the upper right-hand corner and click "Privacy." Scroll down to "Microsoft Word" and display the setting. Change the slider to "No."
Note: Even though you have disabled the sharing of your content with the Resume Assistant, LinkedIn's Privacy Policy and Terms of Service explicitly warn users that the information that you share can be seen, copied, and used by other members. One of the best things you can do to keep your content from being plagiarized is to make it uniquely about you — branding yourself so distinctively that your content couldn't possibly be used to describe anyone else but you!
Also, check your Privacy Settings often as I've seen them reset when new versions or upgrades are made to the system!
BONUS!!!

  LinkedIn is now starting to share the keywords that are used when people search for you!

Go onto your profile, and on your dashboard (located under your header and private to you) you will see:  the number of people who have viewed your profile…..the number of recent post views….and the number of recent search appearances.

Click on "Search Appearances" (red arrow in screenshot below):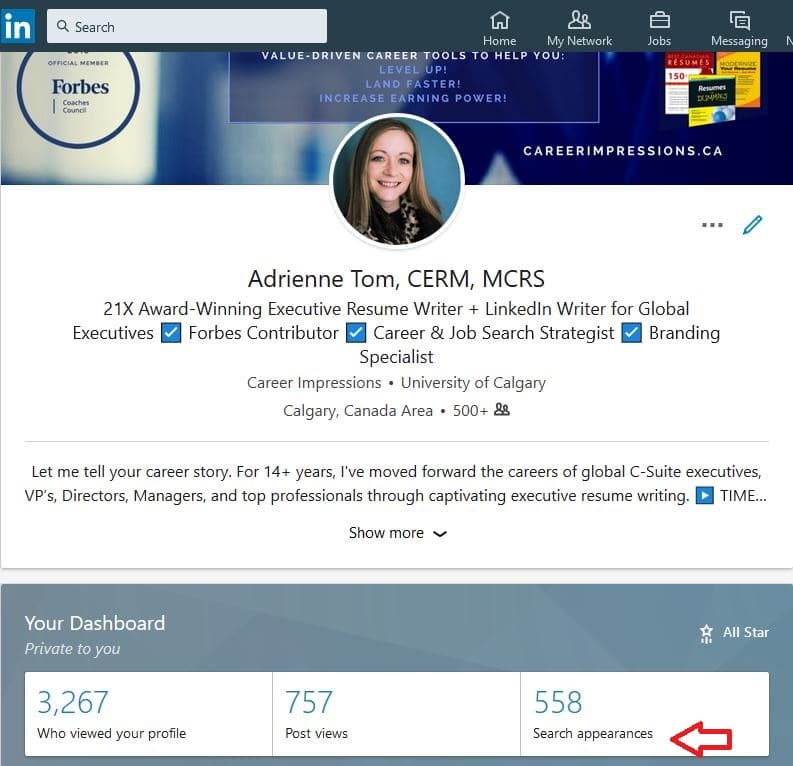 Now scroll to the very bottom of the screen to see "Keywords your searchers used".  Gold!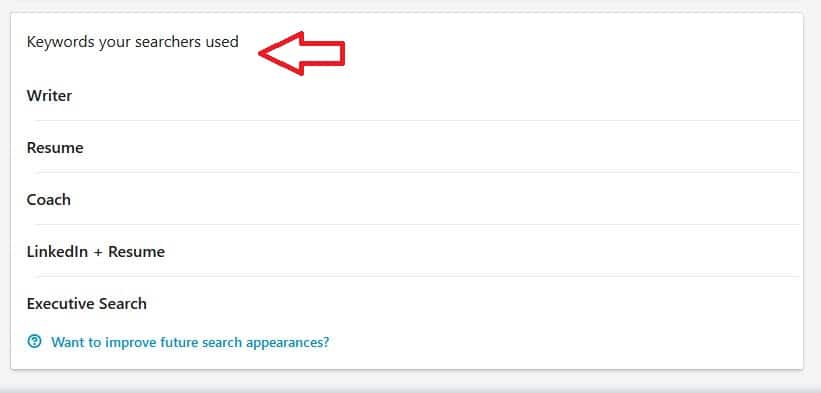 This features allows you to see top keywords searchers used.  Customize your profile to include appropriate keywords and raise your visibility.  Get found for what you do or want to do!  If you are not being located for your area of expertise, you should re-think your keyword strategy and work to infuse the profile with more related words.
** If any of the above new features are not yet showing on your profile, be patient as it can sometimes take time for new features to be rolled out to the entire user population.
---
Visit www.CareerImpressions.ca to learn more about job search services that help executives level-up, land faster, and increase their earning power!
LinkedIn Features Job Seekers Need to Know About