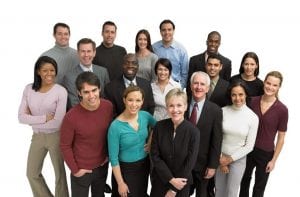 After a couple of challenging years for the economy (and employment) across North America things seem to be holding steady or in some cases turning around.
In the USA, many reports shared that the job market has been steadily improving, with February's Labour Department employment figures showing: "January was the 52nd straight month of employment gains in the U.S., and the 12th straight month of job additions above 200,000".
In Canada, the Globe and Mail recently reported: "The Canadian economy created a greater-than-expected 35,400 jobs in January 2015" and according to Statistics Canada: "The country's unemployment rate fell to 6.6 per cent in January from 6.7 per cent a month earlier".  Job growth is good news although increases are contained to certain sectors (self-employed) and several industries continue to struggle, causing employment concerns…ie: the oil and gas and retail areas.
So how is this economic change being perceived across the workforce?  Are more people looking for jobs, thinking about looking for a new job, or considering a career change?   What motivates job seekers to pursue new roles?  How do job seekers conduct a modern job search?
Jobvite's annual "Job Seeker Nation Report" uncovers what is inspiring people in the world of work and it identifies the priorities, perceptions, and trends of today's job seekers.
Top highlights from the survey are outlined below, but you can request a copy of the complete report on Jobvite's site.
1. 50% of employed job seekers view their current role as temporary. 
Employers, take note: more people than ever before are taking control of their career and their job search. In 2015 people are deciding for themselves where they want to work and how they are going to go about chasing down the right role.
60% of job seekers are optimistic about looking for a job in 2015.
2. Younger employees are more likely to leave a job.
36% of workers between the ages of 19-29 change jobs every 1 to 3 years.
Most younger job seekers consider their current job a stepping stone to better things.
3. Most job seekers leave their jobs for better pay and growth opportunities.
The biggest factors for job changes are: compensation (32%), growth opportunities (16%), work/life balance (10%), and location (10%).
Men and women equally value work/life balance but location and health benefits matter most to older workers.
4. A majority of job seekers use social media to support their search.
The top three social media sites used by job seekers are: Facebook (67%), Twitter (45%), and LinkedIn 40%).
 A whopping 31% of job seekers admit to inflating their skills on social media.
 47% of millennials use mobile in their job search.
5. Interviewing techniques have changed and people must be prepared for anything during an interview.
Employers use a variety of methods to conduct interviews: face-to-face tops the list at 61%, but phone, writing tests, lunch/drinks, and panel techniques are also regularly employed.
6. Researching is a must for the modern job seeker!
 Job seekers use a variety of tools and resources to conduct research, but Facebook tops the list at 18%.
Younger and more educated people are more likely to use social media to support their research efforts.
After reading these results, what do you think; can you relate with the findings?
For more information about job search, resume writing, and interview skills – visit me online at www.CareerImpressions.ca.
Job Seeker Insights – 2015