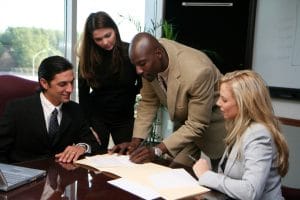 It is no secret that a well-written resume can shorten a job search.  If the resume is written in a modern format and demonstrates value to the reader, it will be difficult to overlook – especially in a sea of resumes that tend to all look alike.
If you are a manager seeking advancement, higher compensation, or greater challenge – you have to prove to the hiring authorities that you have what it takes to lead, direct, and deliver.  An average resume, with average content, will only make you look just that — average.  And you NEVER call yourself average, right?!
There are 4 critical inclusions that you need in your management-level resume to ensure it positions you favorably for the coveted leadership role:
1. Well-rounded skill set
2. Self-starting attitude
3. Problem resolution
4. Forward-thinking abilities
Each of the above categories need to be properly massaged into a modern resume format to elicit interest.   Get the full breakdown on each of these four categories and more in my recent post on LinkedIn: 
Learn more about my career document creation for senior-level professionals like yourself (managers to executives) at Career Impressions. 
Managers – Find out How to Get Your Resume Read