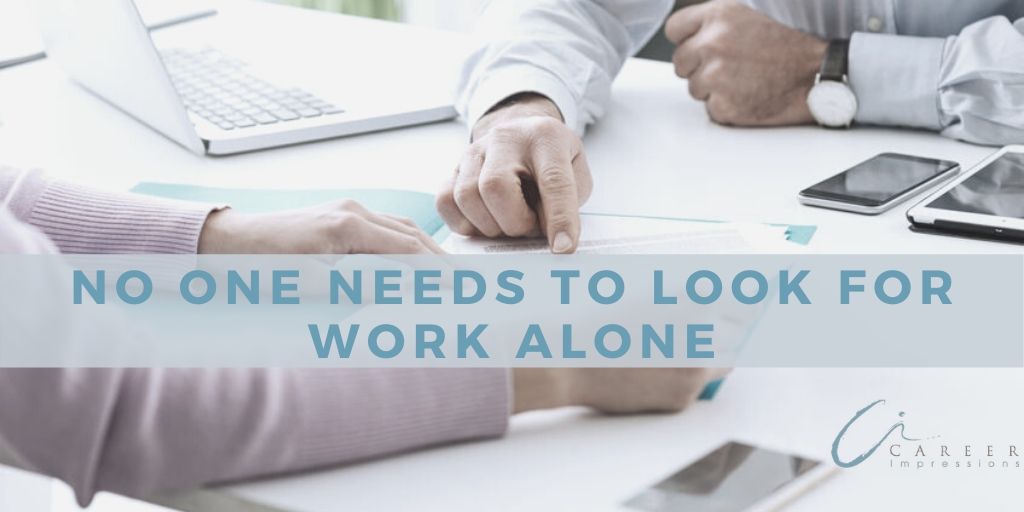 No One Needs to Look for Work Alone
How old were you when you got your first job?
More importantly, how did you find this first job and did anyone help you?
I was 16.
My first job search experience wasn't easy. Mainly because I did it alone.
I had no idea where to start…no understanding of how to conduct a search…and no support. Neither of my parents offered any guidance and without the internet to help (yes, I'm dating myself) I was left to simply scour newspaper ads and travel to stores to fill in applications.
I didn't even have a resume.
Looking back, I'm surprised how well I did all on my own. I navigated several job searches as a naïve youth and landed several good roles – enough to pay my own way through University!
Yet, I'll never let my own kids go into a search alone, unprepared and unsure. Nor do I recommend that a job seeker of any career level enter the process alone or isolated. Working together yields better results.
In fact, according to a book by Orville Pierson, people on job search teams found work 20% faster. 
If you are unable to locate a job search group in your area, an alternative is to reach out to a career professional for recommendations, guidance, or direct support.
Times have changed and job search information is easier to find, but job search itself isn't any easier. There is a lot of noise on the internet, making it challenging to recognize what is useful and what may be misleading. In addition, job search strategies have evolved tremendously. If you haven't had to look for work in recent years you may find yourself playing catch up on the topic.
To help job seekers cut through the noise and access trusted job search support at a reasonable cost – I helped start Job Search Secret Weapon (JSSW).
JSSW is designed to help students, new grads, and professionals access trusted job search tools, templates, and resources to find meaningful work, easier and faster. JSSW offers job search kits for all stages of job search – from planning to resume writing to interview prep to LinkedIn use and more! Content has been curated and created by 4 job search experts.
Join us at www.jobsearchsecretweapon.com to learn more. 
No one needs to look for work alone. There are resources and people to help.