HAPPENING NOW! Canada Career Week Summit: Beyond 2014
No registration is required to participate. All sessions are FREE! Simply visit the summit web page between November 3 and 7, 2014, to listen to the recordings.
In recognition of Career Professionals of Canada's 10th Anniversary and Canada Career Week, you are invited to a VIRTUAL CAREER SUMMIT: BEYOND 2014!
The free event will consist of five 40-minute moderated panel discussions on a range of topics targeted towards everyone who wants to succeed in the Canadian labour market. I was asked to participate in this inaugural event along with thirteen of Canada's leading Career Professionals. In addition to my presentation on "How to Keyword Optimize Your Resume", the other panelists will share insights on:
Job Networking and Social Media
Managing your Career for the Future
The Resume that You Need Today
Different People, Different Challenges
Generational Career Intelligence
If you're seeking up-to-date career or job search advice, you won't want to miss it!
As best said by Wayne Pagani, Senior CPC Advisor: "Many never give consideration to where they are going with their careers, and many never invest in career management".  This event contains a wealth of resources and knowledge that Canadians need to succeed in their careers!  Don't miss it.
Visit the summit web page for a complete list of presenters and topics.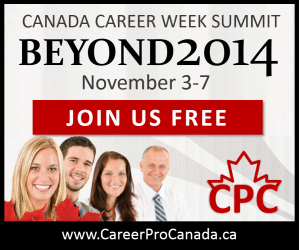 Canada Career Week Summit: Beyond 2014