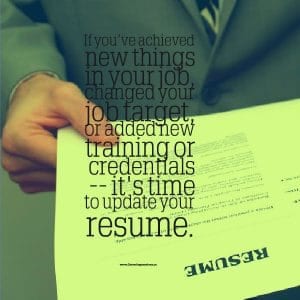 If a recruiter or an employer called you tomorrow and presented a wonderful career opportunity, would your resume be ready?!
Very often job seekers avoid the task of updating their resume on a regular basis and then find themselves overwhelmed when asked to produce a quality document in a short time frame.
September marks the annual International Update Your Resume Month (founded by Career Directors International); an excellent opportunity to reflect on your career achievements over the past year and add them to your career portfolio. If you take the time each September to re-evaluate your value and update your resume you will be ready when opportunity comes knocking!
"September is the perfect time to start a new approach to career care-taking", says Laura DeCarlo, CDI President.  "While children are embarking on starting the new school year, adults should also be taking stock of their professional attributes and career value by updating their resumes."
Updating your resume can be a daunting task so here are some tips to help:
Get started, right now.  Don't wait for the perfect opportunity to present itself before taking action.  Fall is a peak recruitment time and application times may be short.  Rushing to get your materials together will only increase your stress and increase the risk of getting sloppy and being overlooked.
Review your last year of work and take inventory of new skill sets or accomplishments.  If you feel you don't have anything stellar to share – think again. Everyone is a producer, even on a small scale.  You need to prove to employers that you are continuously growing and achieving.  If you are struggling on how to gather good material my guest post on Careerealism: "4 Tips to Gathering Great Resume Content" can help!
Ensure your resume meets modern standards.  Times change and resumes are ever evolving.  A resume format that worked for you last year could need an update to look current and fresh.  Avoid looking behind the times by evaluating current resume trends and applying the best strategy for you and your career target.
Hire a professional if you are struggling.  Professional resume writers can lower anxiety, unearth your unique value, and properly position your skills in a current format.  A professionally written resume can shorten your job search  (average job search time is currently 6+ months!) and potentially help you secure a role with higher compensation.   Yet keep in mind that these professionals will be very busy during this peak season, so book ahead and remember to search for reputable members of the industry.

For more resume tips, visit me on LinkedIn: Adrienne Tom on LinkedIn  or take a look at my specialized services online at: www.CareerImpressions.ca 
September is International Update Your Resume Month!