It happens every January – people vow to make some big changes in the upcoming year. Many will decide its time to seek out a new job or even tackle an entirely different career. Yet, even if you are not seeking new employment in the near future it is strongly recommended that you resolve to spend some time on your resume!
To start, updating your resume each year will ensure it is fresh and current. You never know when you may stumble across the perfect job opportunity, be approached to apply for a role that will advance your career, or have your work situation suddenly change. Having your resume ready will eliminate the stress of having to update and prepare it in a pinch; you can take the time without the pressure to review current resume trends and modify your document accordingly.
Secondly, re-evaluating your resume gives you the opportunity to reassess your skills, achievements, and accomplishments. Many people forget their own value, and since your resume is your own personal marketing tool, you want to ensure all of your notable skills are present. If you find that you are unable to add much to your resume at the start of each year; resolve to find ways to make yourself more marketable. Expand your skill sets both inside and outside the workplace by joining a professional association, attending a company conference, enrolling in a skill booster course, or volunteering within the community. You want your resume to show progression and growth.
Now many people find updating their resume a daunting task, so here are a few simple tips to help you stay on task and get it done right:
1. Ensure all current achievements, awards, skills, and employment details are added, keeping in mind the way they are displayed throughout the document is important. The most relevant information should appear at the top of the first page.
2. Remove dated or irrelevant information to make room for new details; the resume should not change in length, only in content.
3. Make certain the resume reflects appropriate keywords and current industry jargon.
4. Tailor the resume for every role you end up applying for; an unfocused resume will not secure you an interview.
Finally, if you are uncertain or just plain overwhelmed about creating a quality resume on your own, seek professional assistance. Professional resume writers are skilled at creating current and compelling resumes to help you stand out on paper and get noticed! This New Year, resolve to invest in your future.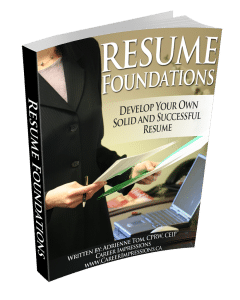 Purchase my eBook online (www.careerimpressions.ca) and be guided through the development of your very own interview-winning resume.